September 2019
| Mon | Tue | Wed | Thu | Fri | Sat | Sun |
| --- | --- | --- | --- | --- | --- | --- |
| | | | | | | 1 |
| 2 | 3 | 4 | 5 | 6 | 7 | 8 |
| 9 | 10 | 11 | 12 | 13 | 14 | 15 |
| 16 | 17 | 18 | 19 | 20 | 21 | 22 |
| 23 | 24 | 25 | 26 | 27 | 28 | 29 |
| 30 | | | | | | |
Calendar


-more information coming soon-
Admin




Posts

: 69


Join date

: 2016-09-02


Age

: 27


Location

: The Land of Cupcakes



This part of the raid is divided into four parts.
The first part consists of a small area in front of a gate by a river. It's started off when you kill all the spirits in the area which will then spawn a champion. Along with the champion some other spirits will spawn as well. The objective is not to kill the spirits but instead stand in circles that will periodically spawn through out the area. So don't bother wasting your time trying to kill everything. Mesmers with portal will help when you need to go from one side of the area to the other but these circles will spawn randomly. When a Circle spawns, all that is needed is to stand in it to make it disappear. The more people in it, the faster it goes. Once enough circles are dealt with, the gate will open allowing you to progress to the next phase
The Next phase is pretty simple, all you need to do is kill all the spirits in the area. Pretty straight forward.
The third phase is the actual spirit run itself. It starts at the top of a balcony and you have to run up a path out running a wall of spirits chasing after you. (make sure to have someone grab the torch to the right side of the balcony before starting this run.) To start this off, all you need to do is glide down and run as fast as you can ignoring the spirts that spawn there. there are walls that will block your path but if you have strong DPS characters there with you, it should be no problem. There will also be circles that will spawn just like the first phase so it's best to have your ranged DPS handle these. As you progress through the walls, the third one has a large canyon that you'll have to glide across so keep that in mind (usually someone will remind you).
The last phase of this one is pretty simple as well. There are a total of 5 switches spread out through out the ruins. A map is posted here in the link of where those switches are located.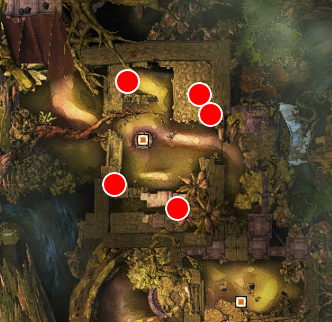 Once all 5 switches are hit, you'll be able to progress through to the next boss. Be careful when standing on the switches cause spirits will spawn trying to knock you off.
Admin




Posts

: 2


Join date

: 2018-10-06




---
Permissions in this forum:
You
cannot
reply to topics in this forum